Thai Basil Chicken with Cashews
Ingredients
: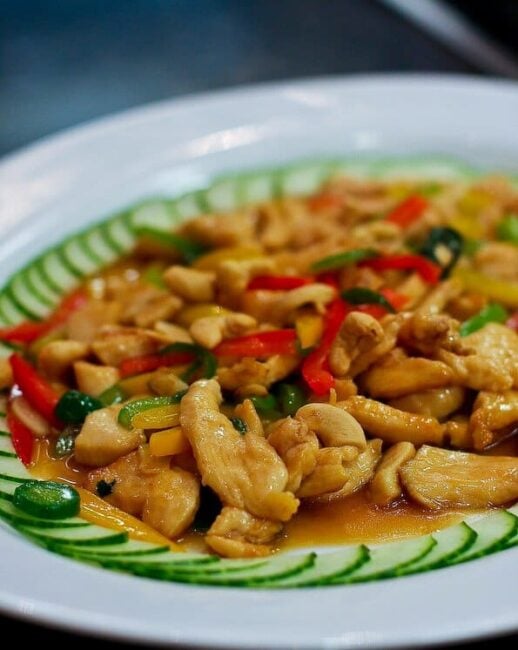 Marinade
2 tablespoons lager-style beer, like Tsingtao
1 tablespoon oyster sauce
1/4 teaspoon ground white pepper (or black pepper)
12 ounces boneless, skinless chicken breasts, cut into 1/2-inch cubes
Sauce
1/4 cup chicken broth
1 tablespoon lager-style beer, like Tsingtao
1 teaspoon soy sauce
1 tablespoon fish sauce (or add an additional 1 1/2 teaspoons soy sauce)
1/4 teaspoon sugar
2 tablespoons vegetable, canola or peanut oil
2 teaspoons chopped garlic
4 ounces asparagus, trimmed and cut into 1-inch pieces
1 teaspoon cornstarch, dissolved in 2 teaspoons water
1 fresh jalapeno chili, thinly sliced into rings (optional)
1/4 cup lightly packed Thai basil or sweet basil leaves.
1/2 cup roasted cashews
directions:
1. Combine the marinade ingredients in a bowl. Add the chicken and stir to coat. Let stand for 15 minutes.
2. Combine the sauce ingredients in a small bowl and set aside.
3. Place a wok or wide saute pan over high heat until hot. Add the oil, swirling to coat the sides. Add the garlic and cook until fragrant, about 10 seconds. Add the chicken and asparagus and cook, stirring constantly until the chicken is no longer pink, about 2 minutes. Add the sauce and bring to boil. Add the cornstarch solution and cook, stirring, until sauce thickens, about 1 minute. Remove pan from heat and stir in jalapeno chili, basil leaves and cashews.